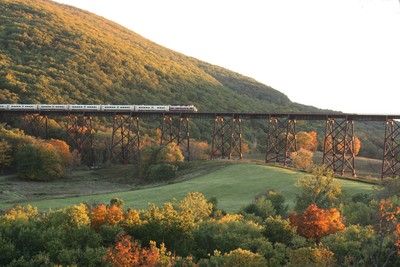 Constructed just over 102 years ago this local landmark spans 3,200 feet from the Salisbury Mills/Cornwall Metro North train station to Schunamunk Mountain and stands 193 above the beautiful Moodna Valley. The Trestle as it is often called is the longest and highest of its kind east of the Mississippi River and is an active railroad bridge. Thirteen trains on weekdays and seven trains on weekends stop at our station, a mile and half from our bed and breakfast. We will pick you up at the station, if you do not have a car.
http://www.njtransit.com/sf/sf_servlet.srv?hdnPageAction=TrainSchedulesTo
The design of the bridge offers little wind resistance and is the subject of numerous photographs. If you are not much of a photographer, you can purchase some beautiful framed photos by William Gould at the nearby Bethlehem Art Gallery.
http://www.bethlehemartgallery.com/index.htm
. Did you see the George Clooney movie "Michael Clayton"? An important scene from the movie took place under the Trestle. BOOM! The director of the movie, Tony Gilroy, graduated from nearby Washingtonville High School.
http://michaelclayton.warnerbros.com/
Two to three weeks of Fall foliage remain and colorful hiking too. Lots to see and do here. Photo by Maureen Moore.